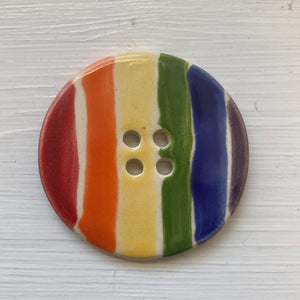 Each of my pottery buttons is made from white earthenware clay. The clay is hand rolled, hand cut, air dried, kiln dried, hand glazed on both sides (no rough, raw clay backs) and then fired again.
While best efforts are made to give accurate colour representation, screens differ across every device.
45mm. 3-5mm thick. 3mm holes (measurements are approximate)
Washing Instructions:  Please make sure the garment is inside out and wash in a fluffy full load.
Please do tag magpiebutterfly in your social media posts so I can see your makes.