Magpie & Butterfly are temporarily closed for orders
Hi. Due to some unforeseen circumstances I need to take a break. I'll let you know when I'm up and firing again.
You can still browse but checkout is deactivated.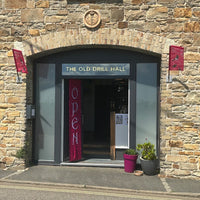 Hello! Welcome to Magpie & Butterfly
Hi, I am Vanessa, a ceramicist producing bright, bold and quirky heirloom decorations, ceramic buttons & beads, jewellery and haberdashery items from my wonderful eclectic shop & studio which overlooks St Michael's Mount in Marazion, Cornwall.
Our new shop has opened! Times are updated here. Please do Message me if you are making a special trip to confirm we will be around!

Every ceramic piece is unique. Made to order, hand formed, fired and glazed to a random soundtrack of 80's & 90's music or my current audiobook with a generous side serving of fennel tea. If you are feeling generous you can buy me a tea here!
Stockists: My work can also be found at Out of the Blue-Marazion Gallery Tresco, Gullz R Loud- St Ives
A few of my favourite things.....
Testimonials
Beautiful work so much choice.

Cazz
Vanessa made me an amazing hanging Borzoi with my sweet boy Obie's markings on. it will hang in my bedroom next to his ashes. Many, many thanks it is a beautiful piece of ceramic art.

Fiona
Stunning ceramics that I will treasure for many years to come

Feenie